State Prison Arthur Kill Correctional Facility that closed down in 2011  and housed 900 prisoners will soon be converted into a 69-acre studio for filming movies, TV shows, and music videos owned by . It is also expected to create up to 1,500 jobs. Broadway Stages plans "We are looking forward to expanding on Staten Island and transforming Arthur Kill into a world class production facility," said Broadway stages president Gina Argento.
Currently, Broadway Stages owns and operates studios in Brooklyn and Queens, boasting a total os 27 sound stages. With this new project coming to Staten Island, it is expected to create up to 1,500 high-paying jobs over the next five years, officials said.
The purchase of the state-owned site will be $7 million dollars and Broadway Stages will invest $20 million in private funds in order to build and construct the studio.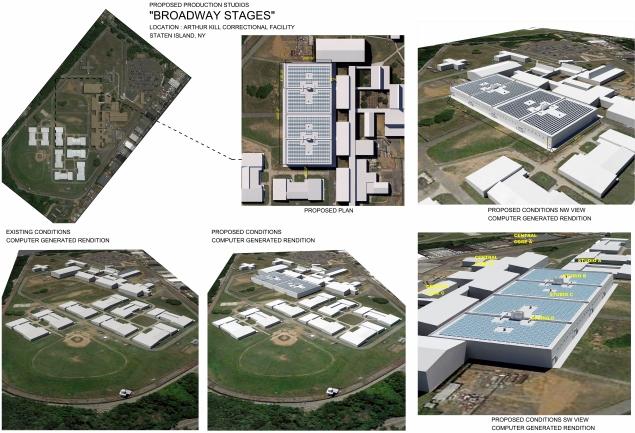 Commissioner of the Empire State Development Corp  said he couldn't think of better use for a defunct prison. "For a long time, New York's economic development strategy included keeping empty prisons open as job factories at the expense of taxpayers, but those days are over," Adams said. "In the last three years, the state has closed nine prisons, allowing us to cut taxes, reduce spending and create new economic opportunities in the local communities," Adams said.
Public approval is still require and is in the process to subject contract negotiations. Argento has made mention that within six months of closing on the deal, the company will make a portion of the facility available for film use. The remainder of the project is expected to be completed within the next two years.
The Arthur Kill facility is no stranger to Hollywood. Scenes from the 2009 movie "Tenderness" starring Russell Crowe — were filmed there.  We look forward to the coming results of this projects. 
The Staten Island film industry is most certainly rising. Staten Island is also the home of Edgewater Hall. Beautiful Victorian loft style event space located at 691 Bay Street. Staten Island, New York. Check out www.CVParties.com for more details and to schedule an appointment please called (718)-720-0900